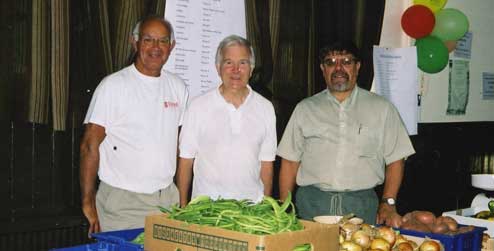 Members of Progressio's Penarth supporters group
Progressio is a membership organisation, so our members are extremely important to us. They stand in solidarity with us and with the people and communities we work with. They show their support by giving regularly and by organising fundraising events to help fund our work. They play an active role in supporting our campaigns and promoting our work. And they join with us in actively raising awareness about international development issues and speaking out against injustices.
As well as providing financial and practical support, our members give legitimacy to our work. Policy-makers and decision-makers know that we speak on behalf not just of the people we work with around the world, but also of our many members and supporters who, like us, want to see an end to poverty and injustice.
Becoming a member is a great way to be part of what we do and to support our work; but even if you do not wish to formally become a member, you can still support us by taking part in campaigns and by donating regularly to Progressio or in response to specific appeals.
Member's story
We hope our members feel proud to be part of the Progressio community: here is what one of them has to say…
Nan Saeki
My father was a keen member of The Sword, and so when I returned with my family from Japan to live in England in 1979, it didn't take long for me to get involved in CIIR. [Progressio was founded as The Sword of the Spirit and was known as CIIR from 1965 to 2006.]

Living as we do in the north of England meant attending meetings was not very simple, but I was keen enough to go down to London occasionally and was always very pleased when former Executive Director Ian Linden came northwards to give talks, and in recent years, current Executive Director Christine Allen.  

Being separated from the main action means that the Comment series of publications has been particularly welcome and useful. Now the lively magazine keeps me in touch.

I find the aims of Progressio inspiring and the work you do relevant and well-targeted. May you flourish for many years to come.